Updating the exterior of your home during a period property refurbishment
Homeowners invest in period properties for specific reasons and these are usually tied to the appearance of the home.
This makes protecting the key period characteristics essential when undertaking a period property refurbishment, including sash windows and exterior timber doors.
Words alone are often enough to sum up a complete image of a home and this is certainly true with 'a Victorian terrace' or 'a Georgian townhouse'.
Distinguishing features give these homes a special place in the nation's hearts and make them a sought after investment.
With the passage of time these features can become damaged or hidden but a sympathetic period property refurbishment can easily transform a home to its former glory.
Exterior features to consider in a period property refurbishment
While intricate interior details can play a large part in planning out a period property refurbishment it is the exterior of the home that will project the picture postcard image of a heritage home.
Wooden sash windows
When getting started on a period property refurbishment account for larger investments that are important to protecting the fabric of the building, including the windows.
Wooden sash windows that have been neglected or have experienced a lot of wear and tear may need to be replaced. Modern timber sash windows allow for a like-for-like replacement, with the benefits of enhanced glass.
While most homeowners carrying out a period property refurbishment will choose to stay sympathetic to the original materials used as much as possible, there may be circumstances where alternatives are needed. The Harborne Sash Window Company Spa can supply sash windows in uPVC as well as wood.
Heritage timber doors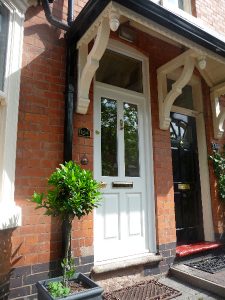 Doors are very often a standout feature in period properties and can feature ornate glass surrounds. Draughty, ill fitting doors may very well need to be replaced while consideration should be given to security and how well the existing door provides this.
Boosting security does not mean having to compromise on authenticity thanks to modern timber doors being made with multi-point locks, as well as retaining traditional design details such as deep rails and feature panels.
When considering work to update the exterior of a home during a period property refurbishment, consider any additions you may want to make, such as adding an orangery or installing French windows.
A timber orangery can easily complement the style of a period home and will really help to bring in extra light, while new French doors or a stable door can bring added functionality in keeping with the look of the property.
Whether it is new sash windows, a more secure front door or an orangery that you want to add to your home as part of a period property refurbishment, The Harborne Sash Window Company Spa is here to help.
To discuss your specific requirements please get in touch.
---
The Harborne Sash Window Company Spa
4 Park St, Leamington Spa CV32 4QN
01926 278800
https://www.harbornesash.com